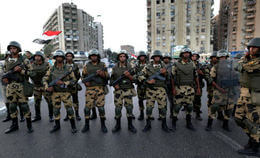 Egypt's main political players raised objections on Tuesday to a new constitutional decree, highlighting challenges the military-backed transitional administration might face in reaching consensus to end the crisis.
The charter, which grants Egypt's new interim president extensive powers and paves the way for fresh elections, has hit opposition both from groups who backed Mohammad Mursi's ouster and from his loyalists.
According to the decree, issued late on Monday, Egypt could see a parliamentary vote in about six months, and a presidential election would be called once the new legislature was convened.
Liberals and Christians had opposed the article as one of several that gave the text an Islamist tone.
It raised eyebrows at Tamarud, the youth movement which mobilized millions to take to the streets against Mursi.
Tamarud, literally "rebel", whose founder Mahmoud Badr was involved in the design of the road map, said in a statement the decree had not been run past them, and that they would propose amendments to the presidency in the near future.
The National Salvation Front (NSF), the main coalition that had called for Mursi's resignation before the MB president was overthrown by the military last week, denounced interim president Adly Mansour's decree in a statement on Tuesday.
On the other side of Egypt's political divide, Mursi's Muslim Brotherhood movement, which refuses to take part in the political process and demands the deposed leader be reinstalled, flatly rejected the decree.
Abdul Rahman al-Barr, a member of the Brotherhood's Guidance Council, said "there is no need to speak about any decrees because they were issued by people without authority".
The ultra-conservative Nour Party, Egypt's second Islamist force after the Brotherhood, said they wanted constitutional amendments to go through a house of representatives, rather than through a committee appointed by the president. The party initially backed the road map, lending the military Islamist legitimacy in the absence of the Brotherhood. But on Monday, Nour said it was withdrawing from the process after 55 Mursi supporters were killed when soldiers opened fire in Cairo. However, it remains engaged in constitutional debate.
Source: Al Manar