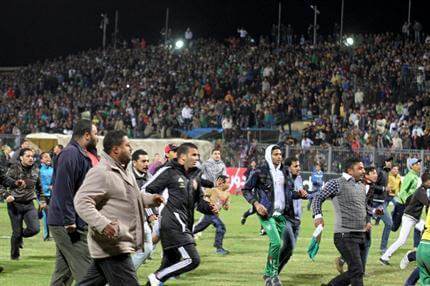 An Egyptian court confirmed on Saturday death sentences on 21 soccer fans for their role in a stadium riot in Port Said last year, a case which has provoked deadly clashes in the Suez Canal city.
The stadium deaths occurred in February 2012 at the end of a match between Cairo's Al-Ahly and Al-Masry, the local side, and have been a flashpoint for protests.
In a ruling on live TV, the court also sentenced five more people to life in jail for the riot. Rioting after the death sentences were originally announced has underlined worsening security in Egyptian cities since the 2011 overthrow of Hosni Mubarak. The court sentenced senior policemen to 15 years each – former head of police security General Mohammed Samak and Brigadier General Mohammed Saad, who at the time of the stadium riot had the keys to the stadium gates, which were locked. Seven remaining police defendants were acquitted. This comes as the government of President Mohammad Mursi is struggling to halt the slide in law and order, hampered by a strike by some protesting police . At least eight people have been killed in Port Said this week, including three policemen. In response, a bout 2,000 protesters blocked car ferries from crossing the canal. Meanwhile, an independent Egyptian newspaper al-Watan reported Saturday that a mob attacked and Vandalized its offices in the early morning. "More than forty people Torched the entrance to the building, stormed it and destroyed its contents," the daily reported on its website. The newspaper has been highly critical of the country's ruling Muslim Brotherhood Movement. It also recently Angered fans of the Cairo al-Ahly football club – who have protested against the government – by publishing a report that they had held meetings with a senior Muslim Brotherhood member. Al-Watan issued a rare Retraction and apology to the Ahly fans on Saturday.
Source: News Agencies