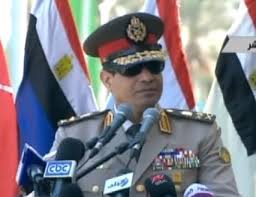 The Egyptian presidential elections have entered a decisive phase as the Supreme Elections Committee officially declared May 9 as the last day to drop out from the race. While uncertainty dominated Abdel Fattah al-Sisi's campaign over his political program, which has not been officially announced, Hamdin Sabahi responded with an attack on Sisi regarding his relationship with the Muslim Brotherhood.
The Supreme Elections Committee announced May 9 as the last day to drop out of the presidential elections scheduled for May 26 and 27. In the meantime, the competition intensified between candidates Field Marshal Abdel Fattah al-Sisi and Hamdin Sabahi after confirming their names will be on the ballots that will be printed within hours amid tight security.
Sisi's campaign raised eyebrows yesterday when it deleted its electoral program from its official website. There was talk by some of the people in charge of the campaign that Sisi "will not present an electoral program with a timetable for implementing specific promises. He will instead stick to the general topics that he discusses at different events during the campaign."
The head of the information office of Sisi's campaign, Ahmed Kamel, explained to Al-Akhbaryesterday: "I did not say the general will not present an electoral program and I don't know if there will be a program that will be presented to [Egyptian] citizens during the campaign. This is not my specialty, there are other people in the campaign that you can talk to.Al-Akhbar tried to contact the campaign coordinator, Ambassador Karem Mahmoud, but he did not answer his phone.
Sisi's campaign was criticized for statements made by his team that at the present moment he does not have an electoral program, even though his campaign started a week ago. Whereas his opponent, Sabahi, presented a comprehensive program that can actually be implemented and he has already started campaigning in several provinces.
Until now, Sisi's campaign team has not posted on its official social media pages any program or big projects that Sisi intends to implement after being elected. All they did was post excerpts from his interviews and video segments from his meetings with various movements that began since Mursi was deposed.
Sisi's campaign focused in the past two days on the popular campaigns in the streets of several provinces in support of his candidacy that were organized by the Congress Party and the National Progressive Unionist Party as well as My Homeland Egypt Party headed by former Interior Minister Ahmed Gamal al-Din. In addition, Amr Moussa is currently on a tour of the United States as part of a diplomatic campaign to rally support for Sisi's candidacy. The president of Egypt's student union, Mohammed Badran, will also go on a tour of Gulf countries to mobilize Egyptians living in there to vote for Sisi. The election period for Egyptians living abroad starts May 15 and goes on for four days.
Support for Hamdin Sabahi increased yesterday after a TV interview in which he answered tough questions about his life, his campaign finances and his electoral program. He criticized his opponent harshly, saying that while he opposed Mursi's regime and considered it illegitimate, Sisi as defense minister was saluting Mursi as the commander of the armed forces.
Sabahi responded to accusations that he was allied with the Muslim Brotherhood in the 2011 parliamentary elections in an interview that succeeded in changing the opinion of some youth who had opposed him and had called for boycotting the election. The presidential candidate said that he rejected an offer from Mursi after he became president to become vice president at a time when Sisi agreed to become defense minister under the rule of the Muslim Brotherhood.
Source: http://english.al-akhbar.com/