Rassegna Esteri
Ecuador FM stresses continuation of friendly ties with Iran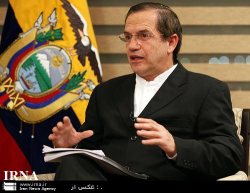 Speaking to the Cuban State News Agency Prensa Latina, he noted that the US Law on Iran's Influence in Latin America cannot change good and intimate relations between Tehran and Quito.
'US supposes that when it cut ties with a country, others should follow the Washington; Quito is committed to continue relations with Iran, China, Russia, Middle East, Africa and all other countries which had relations with them traditionally,' he added.
'The community of Latin American and Caribbean states (CELAC) leaders should support Ecuador position in this regard in their upcoming meetings; Quito refuses the US law on Iran's influence in Latin America based on its independent foreign policy because this law is not in favor of the world peace or common interests; Washington should not impose its will and foreign policy on other states.'
His remarks came a few days after US President Barack Obama enacted a law to counter Iran's growing relations with the Latin American countries.
The so-called Countering Iran in Western Hemisphere Act, passed by the US lawmaker, requires the US Department of State to develop a strategy within 180 days to address Iran's growing presence and activity in Latin America.
It also calls on the Department of Homeland Security to bolster surveillance at US borders with Canada and Mexico to prevent what it called as 'operatives' from Iran, the Islamic Revolution Guards Corps, the IRGC's Quds Force, Hezbollah or any other organization from entering the US.
Iran has opened six new embassies in Latin American countries since 2005 -bringing the total to 11 – and 17 cultural centers.
Since taking office in 2005, Iranian President Mahmoud Ahmadinejad has expanded Iran's cooperation with many Latin American states, including Venezuela, Bolivia, Ecuador and Cuba.
Iran's strong and rapidly growing ties with Latin America have raised eyebrows in the US and its western allies since Tehran and Latin nations have forged an alliance against the Imperialist and colonialist powers and are striving hard to reinvigorate their relations with the other independent countries which pursue a line of policy independent from the US.