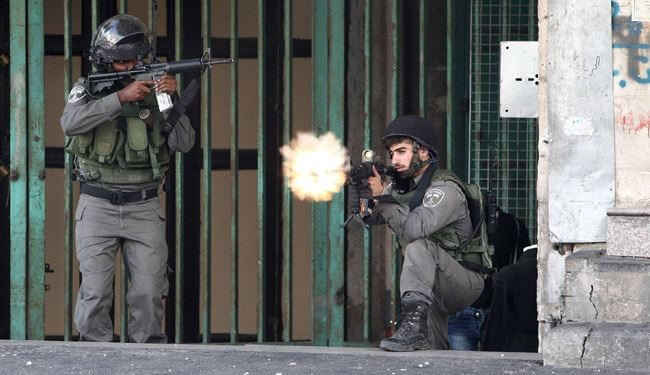 Hundreds of Palestinian protesters clashed with Israeli Forces in Bethlehem on Tuesday. The clashes erupted after the funeral of a 13-year-old boy who was killed during previous clashes with the Israeli military.
A 12-year-old Palestinian boy died Monday in hospital after being shot in the chest by Israeli security forces during clashes in the West Bank, after a Palestinian man died from wounds suffered over the weekend.
According to Palestinian health officials, five protesters have been injured so far during the clashes in the biblical town of Bethlehem.
But in Quds, the Israeli government has barred Palestinians from entering the city of Old East Al-Quds (Jerusalem) since Sunday, as tensions mounted following recent tension.
The restrictions were put in place for two days with only Israelis, tourists, local residents, business owners and students allowed to enter the area.
Worship at the sensitive Al-Aqsa Mosque was limited to men aged 50 and over. Some women, who were refused entry to the mosque, protested outside.
Israel's decision has annoyed Palestinians, who feel subject to discrimination.
Tensions have flared between Israelis and Palestinians in recent weeks, and much of the unrest has focused on East Al-Quds (Jerusalem) most sensitive holy site, the location of Al-Aqsa Mosque, which is known to Muslims as Noble Sanctuary.
Beyond the East Al-Quds, Clashes break out after days of tensions in West Bank. Political analysts say the reason for the recent conflict is clear. "Sixty five percent of our society are the youth generation.
People between 18 years old to 25 years old. They were born under occupation. They woke up to see the atrocities of the Israelis. They [have] come to see the hate culture raising and no leadership, and no guidance, and no institutions. So, you have this frustration and anger," said Mahdi Abdul Hadi, a Palestinian senior political analyst.
Video: http://wpc.be1e.edgecastcdn.net/00BE1E/news/2015/10/07/alalam_635798123454550432_25f_4x3.mp4
– See more at: http://en.alalam.ir/news/1746281#sthash.zYRYq5IM.dpuf