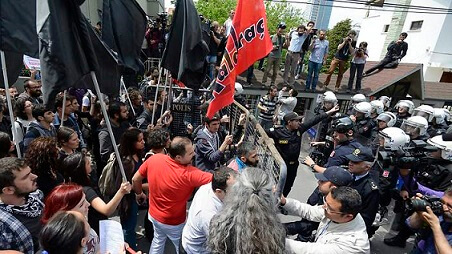 Turkey's biggest union geared for a massive strike on Thursday amid mounting anger over the country's worst mining accident, as the toll from the disaster rose to 282, with scores still trapped underground.
"Those who keep up with privatization… policies, who threaten workers' lives to reduce costs… are the culprits of the Soma massacre and they must be held accountable," Turkey's Public Workers Unions Confederation (KESK), which represents 240,000 employees, said on its website.
Desperation and anger were rising as hopes fell for dozens of workers still trapped in the collapsed coal mine in the western town of Soma in the Manisa province.
Thousands of protesters clashed with police in Ankara and Istanbul on Wednesday, accusing the government and mining industry of negligence.
Prime Minister Recep Tayyip Erdogan promised investigations would be launched into the causes of the disaster but rejected claims of government culpability, saying that "such accidents happen".
"We have witnessed one of the biggest work accidents in our recent history," Erdogan said after visiting the mine, where grieving relatives of the victims called for him to resign.
Erdogan said figures remained uncertain but mining operators thought around 90 workers were still trapped following the huge explosion at the mine on Tuesday which was believed to have been set off by an electrical fault.
Reports from rescue workers on the scene suggest the figure could be far higher. Most of the victims died of carbon monoxide poisoning.
The premier also appeared to downplay the seriousness of the accident, comparing it to other mining disasters elsewhere, saying "204 people died in the UK in 1862 and 361 people in 1864".
Hundreds of distraught family and friends gathered near the building where Erdogan gave his press conference were outraged, with some kicking his vehicle.
Public anger also spilled onto the streets.
Police used tear gas and water canon to disperse between 3,000 and 4,000 protesters in Ankara's downtown Kizilay Square, as well as thousands of demonstrators in Istanbul.
Turkish Energy Minister Taner Yildiz said early on Thursday that the provisional toll had risen to 282 after more bodies were pulled out of the pit.
Raging fires had been hampering efforts by rescue workers still battling to find survivors and rescuers still hadn't been able to reach two underground shafts.
Source: Al-Manar