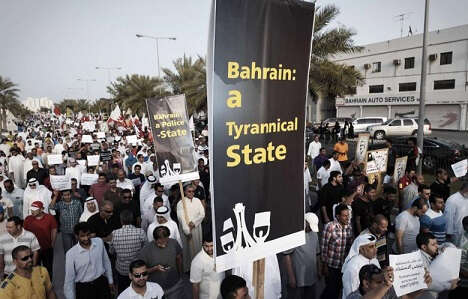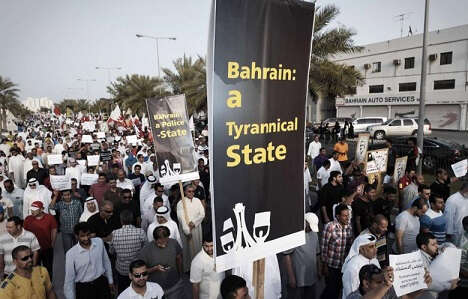 By: Chloé Benoist
On Sunday night, Bahrain will celebrate its ten-year anniversary as a Formula One host country. The event has been touted as a moment of national pride and unity, but the glamor and rumbling motors of the race have become yet another sinister excuse to quash Bahraini dissent.
Under the slogan "UniF1ed," Bahrain has turned the Grand Prix into a propaganda tool to burnish its image on the international stage as a peaceful modern country.
But this image is threatened by the reality of three years of state repression against dissent, which has killed close to 100 protesters and jailed hundreds of opposition members.
Formula One, one of the world's most lucrative sports, has become a battleground between Bahraini activists seeking to raise international awareness of their plight and the government trying to silence them.
"Who benefits from the Formula One race? The ruling family," Bahraini activist Nedal al-Salman told Al-Akhbar. "We want to show what is really happening."
Since the cancellation of the Bahraini Grand Prix in 2011, in the early moments of the uprising, the monarchy has intensified its campaign to clamp down on protests every year ahead of the Formula One races, and 2014 seems to be no exception.
"Every year before the Formula One race, there is a huge crackdown on protesters, with arrests, collective punishment, house raids, injuries and even protesters being killed by the police," Yousif al-al-Muhafda, head of the documentation unit of the Bahrain Center for Human Rights, said.
"They don't allow protesters to go out in the streets so journalists can't see them," he added. "Some villages are even surrounded with barbed wire. The crackdown started in January this year, and we documented 500 people getting arrested since."
Journalists have been barred from covering protests in the country in further efforts to strangle the opposition, said Salman, who is also involved with BCHR and helps journalists access opposition sources.
At least two journalists who cover Bahraini protests have been arrested in the past two months, the Committee to Protect Journalists said, who added that Bahrain has one of the highest number of incarcerated journalists per capita, second only to Eritrea. Three reporters have been killed since the beginning of the uprising, and numerous others have been injured or otherwise intimidated into silence.
"This year we're a bit careful, because we are worried that we might be punished," Salman said.
Meanwhile, Formula One's president, Bernie Ecclestone, has played dumb in regards to the human rights violations in Bahrain.
While Ecclestone has not commented on the political situation in Bahrain this year, he has repeatedly denied or minimized the existence of social movements surrounding the Grand Prix in the past.
"It's all very quiet and peaceful," he said in 2012, the year when protester Salah Abbas Habib was killed by security forces during an anti-Grand Prix demonstration. In 2013, Ecclestone similarly declared that there was "nobody demonstrating" in Bahrain, as two women, Nafeesa al-Asfoor and Rayhana al-Mousawi, were arrested for attempting to protest by the racetracks, only to be subsequently charged with attempted terrorism.
Salman said Bahraini activists had reached out to Formula One drivers asking them to boycott the race this year, but to no avail.
"We as a human rights group wrote a statement calling for the cancellation of the Grand Prix, because it became a pretext for human rights abuses in Bahrain," Muhafda said of activist efforts to stop the race. "We also want them to boycott Formula One in Bahrain until they respect human rights here. They shouldn't come cause we don't want more victims."
The reasons behind Formula One's refusal to acknowledge its problematic support of a repressive regime is simple: money.
Every year, the Bahrain Grand Prix has raked in tens of millions of dollars in revenue. The million-dollar sponsorships, the millions of TV viewers and the pricey Grand Prix weekend tourist packages make every race a veritable boon for Formula One. Much like FIFA in Qatar and Brazil, Formula One management prefers to turn a blind eye to the abuses they are abetting, clutching to their so-called political neutrality in the name of sports – or rather, in the name of financial gains.
Bahrain's key position as home of the US Fifth Fleet and neighbor to oil-rich Gulf countries has stifled the opposition's visibility, as the international scene intentionally overlooks the plight of the Bahraini people.
"There's a blackout, as if Bahrain didn't exist in this universe," Salman sighed. "This hurts, the silence of the West and Arab states because of their interests."
The large obstacles standing in the way of Bahraini activists' goal – a democratic state – have not deterred their efforts, however.
"We will always be optimistic, but reality doesn't show us that the end is near," Salman said.
Muhafda was equally determined.
"The fight won't stop until we achieve justice," he said.
Follow Chloé Benoist on Twitter: @chloejbenoist