Rassegna Esteri
Assad: France Supports Terrorism, Terrorists among Syrian Refugees to Europe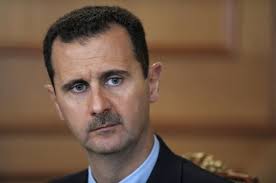 Syrian President Bashar al-Assad accused France of "supporting terrorism" and said he saw Prague as a possible venue for signing any future peace deal to end his country's four-year civil war, in comments broadcast Monday on Czech TV.
In an interview due to be aired in full on Tuesday, the Syrian President was asked whether he could see a peace deal being signed in Prague, as Czech President Milos Zeman had suggested in September.
"Naturally, if you ask Syrians they will tell you they don't want a peace conference in France, for example, because France supports terrorism and war, not peace," he said on the CT public station.
"And as you mention Prague, it would be generally accepted because of the balanced position of your country."
As the last diplomatic outpost of the West in Syria, the Czech embassy has become a hub for confidential US and EU communication with the Damascus government amid moves aimed at ending the four-year conflict.
Moreover, President Assad said that there are terrorists among the Syrian refugees making their way to Europe.
Asked whether Europeans should fear refugees from Syria, Assad said: "It's a mixture. The majority, they are good Syrians, they are patriots… But of course you have infiltration of terrorists among them, that is true."
Hundreds of thousands of Syrian refugees have reached Europe this year, often without documents, sparking fears in many countries that ISIL militants may be among them.
French Foreign Minister Laurent Fabius said on Monday that working with the Syrian army to fight the so-called 'Islamic State of Iraq and the Levant' (ISIL) takfiri group was not on the cards until he was removed.
On a trip to Washington last week, French President Francois Hollande and reiterated his determination to see Assad step down in order to give Syria a chance for peace, saying "it should be as soon as possible."
Syria was hit by a violent unrest in mid-March 2011 that later morphed into a multi-front civil war orchestrated and funded by major world powers including the US and France, and by several regional countries, including Turkey, Saudi Arabia, Qatar and others.
Source: Al-Manar