Rassegna Esteri
Syria, Army advances on several fronts against terrorists, kills scores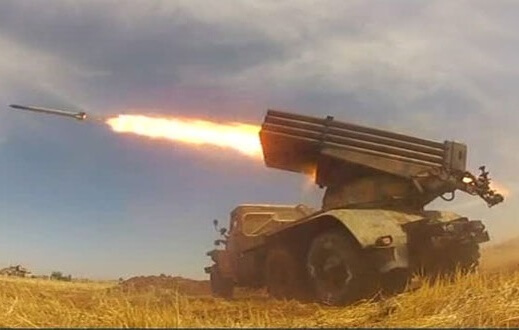 Sana agency – The army continues to crack down on terrorists in several provinces, killing increasing numbers of terrorists and destroying their weaponry.
Zabadani, Damascus countryisde
The army, in cooperation with Lebanese resistance, established control on more buildings which overlook al-Zabadani valley into Sirghaya town to the north of al-Zabadani.
Meanwhile, units of the army achieved more progress in al-Nabou' nihgborhood towards the city center.
Sweida 
A unit of the army and armed forces on Thursday morning carried out a special operation against dens of ISIS terrorists in the northeastern countryside of the southern Sweida province. A military source told SANA that a unit of the army bombarded a den of ISIS terrorists with their vehicles in the surroundings of Tal Sa'ad in the northeastern countryside of the province.
The source added that a number of terrorists were killed and others were injured, and their machinegun- equipped vehicles were destroyed in the bombardments. Earlier on Wednesday, authorities arrested, in cooperation with locals, members of an armed terrorist group in a thicket in the southeastern countryside of Sweida province.
Initial investigations showed that the terrorists -17 in number- were heading to the east of the Province where terrorist organization of "the Islamic State in Iraq and Syria" ISIS members spread, pointing out the continuation of investigations.
Also, Wednsday a unit of the Army and Armed Forces, in cooperation with popular defense groups, thwarted an attempt by a group of ISIS terrorists to infiltrate from the direction of Sa'ad hill and Kherbet Sa'ad towards the surroundings of al-Boutheina field and hill, 35 kilometers to the northeast of Sweida city.
Daraa
An army unit killed terrorists of Jabhat al-Nusra in Busra city in Daraa countryside.
Deir Ezzor
Army units in cooperation with popular defense groups thwarted terrorists of ISIS while they were trying to infiltrate towards Deir Ezzor Military Airport in northeastern Syria, inflicting heavy losses on them.
Local sources in Deir Ezzor told SANA that ISIS detonated five car bombs in the eastern part of the airport. Dozens of terrorists were killed, many others were injured and numbers of their vehicles were destroyed along with all ammo inside them. Army units carried out intensive strikes against ISIS' gatherings and dens in the area surrounding the airport, killing scores.
Lattakia
At least 44 terrorists killed, others wounded during army operations in the northern countryside of Lattakia coastal province.
Homs
The army killed a number of ISIS terrorists and injured many others in Palmyra, inflicting heavy losses upon members of other terrorist organizations who were trying to infiltrate into one of the military points in the surrounding of Mariamen village in Homs north-western countryside.
An army unit also killed a number of terrorists in Taldou village in Houleh, 27 KM to the north-western side of Homs. Other army units carried out successful operations against dens of terrorists in Haret al-Taleh in Rastan and al-sa'an in Homs northern countryside, eliminating a number of them.
Earlier, Army units killed several terrorists in Tadmour city (Palmyra), al-Tala quarter in al-Rastan and Taldo in Homs countryside