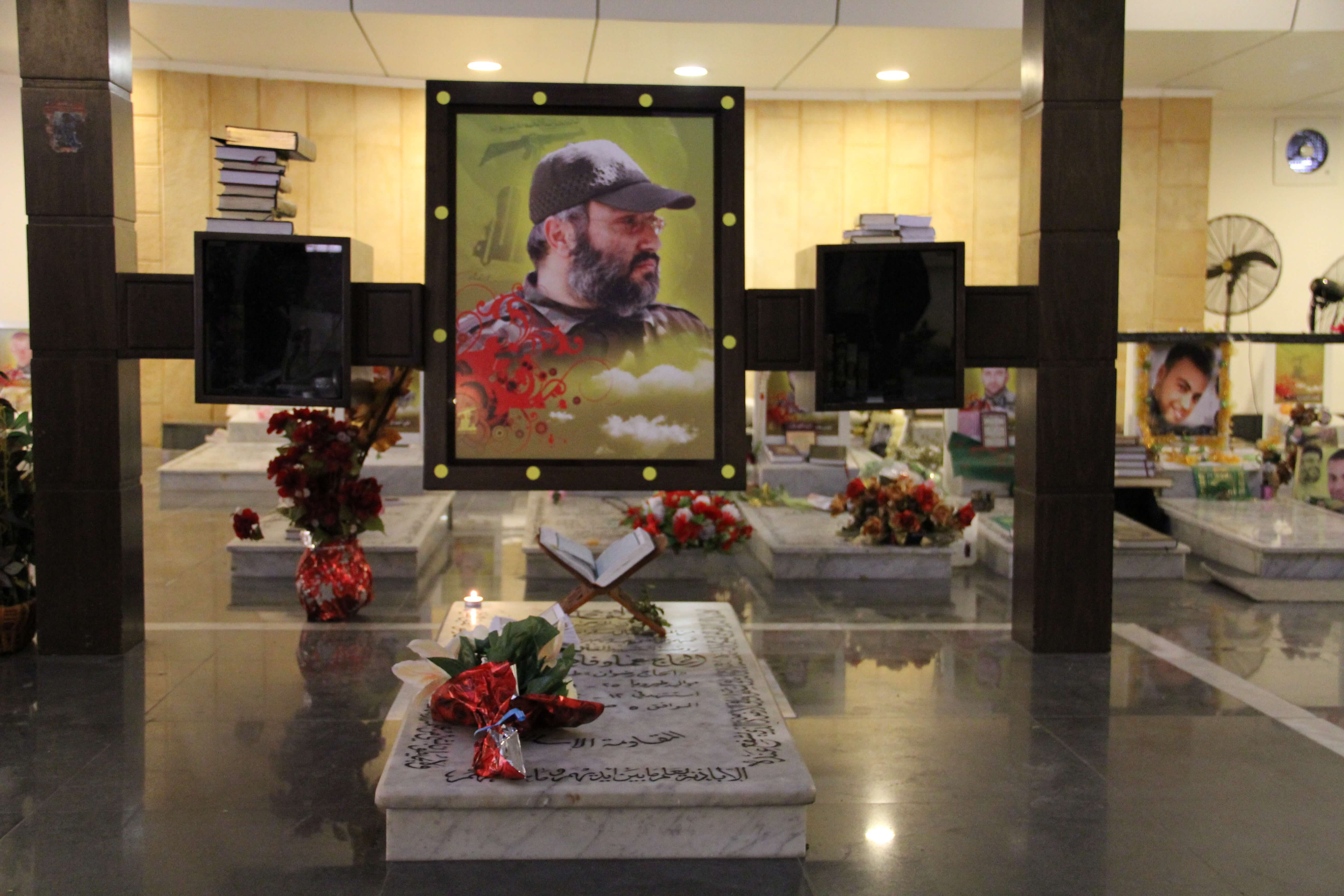 The majority of known Iranians think it was an Iranian by birth, and passport name Farsien. The few who know that it was Lebanese, known as Hajj Radwan. Only a very narrow circle, lead by Supreme Leader Ali Khamenei, known by his real name: Imad Mughniyeh, who chose from Iran all of the holy city of Qom and ethicists and gratitude primary address for his frequent visits to the Islamic Republic.
Eyes the color of the sun at sunset days of winter storm. Redness obscure the wellspring If he'd been a burst of tears washed Falls bitterness did not avenge his assassination. Is more nostalgia than 25 years of brotherhood in earned Jihad leader Imam confidence and respect generals Iran and its army. Desire to advertise to the whole world about the 'Haj myth', Tkphaa fears of disclosure, by mistake, the secrets of security threatens serious leakage risks. Is the case of Ayesh Imad Mughniyeh of Iranian officials, who argue that it should be given the right man in the world, as far as the reward himself who يأملونه him in the afterlife. 
Iran's Hajj Imad relationship has never been a transient. The Islamic Republic has long denied it in public, that came on martyrdom and burial. Attended Tehran, Bakdha and Kadidha, led by Ali Akbar Velayati, representative of Supreme Leader Ali Khamenei, and then-Foreign Minister Manouchehr Mottaki, representing President Mahmoud Ahmadinejad.Republic honored 'commander الانتصارين' a witness symbolic grave in 'committee Zahra', Revolutionary Martyrs Cemetery and the war in Tehran. 
Haj relationship began in Tehran, with the outbreak of the revolution in 1979. Much on the frequency of the Islamic Republic, in the visits he acquired a Persian language mastered dialect Tehran, to benefit from the known from the Iranians. 
Iranian official says, who Aaicho Haj martyr since the beginning of the eighties: «Every time you see him or pious or call him telephone you remember God. For which he was doing everything. He adds: «was a nice person, Dmtha and Khalouka. God is always present in his life. Unfailing smile, who lived all his life carrying blood on his hand, and ready all the time for martyrdom. He continues: «Hajj Imad was for me as it was Mr. Abbas Musawi, as today Sayyed Hassan, and the Supreme Leader (Ali Khamenei), and Imam Khomeini, remember whenever I saw them feel like you are in paradise … Was a model of humility and selflessness. Whenever we met was the one who serves everyone. 
same official adds: «s operations were apparently different. Was more alert, his thoughts are all directed in one direction, with some of the tension. Know that the Mujahideen are living underground, and this affects them nervous and raise the proportion of their stress, in light of serious concern of any emergency can lead to failure in the work of planning and preparation took him several months. I, for example, I can not endure two hours underground and move private cars with complex security measures, every movement calculated accurately. 
Few in Iran know that the Haj Lebanese citizen. Many know him «Hajj Radwan. «Once came with Mr. Hassan to Tehran, after the War of 2006, and held public meetings. Of course Hajj Radwan was behind the camera. We entered the house, Haddad Adel, speaker of parliament. Met Mr. in the house at the time all the officials in Iran, who came to congratulate the victory for Hezbollah. Everyone wanted to take pictures with him, and it was Hajj Imad is take the camera and portrayed, even if Haddad Adel did not know at the time that Imad Mughniyeh. 
Guys say Iran's Hajj Imad he «was a man of great surprising level of organization. Ayesh Hezbollah in the beginnings of what was expected to be able man, named Imad Mughniyeh, to accomplish what he did in building organizing resistance.Be certain that Tehran does not know all particles. Hezbollah independently. From the outset was standing on his feet.Tehran know things strategy. I could have Esicerona in some detail, few in Iran know exactly how is Hezbollah. What made Hajj Radwan is a wonderful thing. Even we Iranians know the outer side of the Hezbollah. If found who knows more, be knowledge of the theory, on paper. Hezbollah foremost spirit, relationship, and a link between the people and God. We do not know how they work and how to cite and how they win. 
Same sources indicate that the Hajj Imad «was very close to the Supreme Leader, who was much loved and trusted in his analysis and approaches of events. Was tempted to shortcut and directly affects topic. In all the meetings El held by the Iranians with their allies strategists in the region, was Imad lead role of the translator, and especially with the Syrians, who were unaware that Imad Mughniyeh, except Brigadier General Mohammad Suleiman (who was assassinated in Tartous in 2008) and a few senior officials. In this sensitive meetings, Hajj Imad sometimes resort to translation in a way understood his quest to the success of the talks. Was transferred image that will ensure it she would be the desirability of the other party, and was baptized sometimes added and explanation, as if to say to a party that the other has applications such and such, and then say to this other that the first party initiates from him to make those things, and so on. The practice is the one who conducts talks through translation, and as a result everyone was up to مبتغاه. All they had to do was innovative. 
These sources say that he «was reluctant to Iran frequently. For us, the Iranians, the Hajj Imad one of us. Did not speak English with us, but he speaks fluent Farsi, Tehran accent, to the point that if you did not know that a Lebanese, I thought that Tehrani their fathers and grandfathers. She adds: «was very careful not to reveal his true identity. Always sought in order not to be in the picture. Even in the actual sense, did not give anyone the opportunity to take his photograph. 
Says one who knew him: «We Whenever we met, on any occasion, inside or outside Iran, and we wanted to take pictures, everyone was never to catch the camera. The result is always the role of the photographer. Everyone in front of the camera, but it is, was always standing behind her. Did not know, can not be touched by dealing with it because it is different from the others. He continues: «When it comes to Iran was visiting the city of Qom and meet scientists, especially Ayatollah Mohammad Taqi Bahjat, who died about three years ago. It is known that Ayatollah Bahjat of months clergy Alarafanyen, has sent a letter to the Shiites of Lebanon during the July aggression «asked them where recitation prayer Jawshan small, day received many on their short message calling it». 
What are the qualities that have made the Hajj Imad this difficult to figure in the regional equation? «Silence, and permanent orientation to God, and concern. Was accurate in his analysis of the political, and deeply. 
Iranian official tells: «Once upon a time, in 2003, he took me and a senior Iranian official on a tour of the entire front in southern Lebanon. Was driving the car himself, explains all sites, Hezbollah positions and Israeli positions. Was very brave. He adds: «Once again, before the year 2000, he took me on a tour to show me how similar the resistance succeeded in digging the mountains and the placement of missile platforms moving inside reached by rail abroad to withdraw to launch rocket volley before re-pull into the base of the mountain. In this journey, we moved by car to the south, to come to places not suitable leadership, Ftergelna and we drove about 45 minutes on foot, in a predetermined path. A narrow path between the cluster bombs had clean it Mujahideen. It was hard for us to understand how they dug all these sites, and how they were able to pass on to these large rockets over such a long distance on foot, and under the eyes of the Zionists. Was a huge achievement. Then I understood that the Israelis if they try to launch military aggression against Lebanon, they Samnon ignominious defeat. And then we Hajj Imad to see how it works accurately Hezbollah. We saw methods of camouflage for the Mujahideen, which the Israelis are unable to detect even if they passed it. Fighters lying on the face of the earth within the pits covered things of the fabric of the Earth itself, as it took me to a training camp in the Baalbek region, was located in a valley between two mountains was reached Qmtehma rope fighters used it to move from one to the other. After 2000, I went with him on a tour of the room and watched surveillance and monitoring by the Mujahideen watching from which Israeli positions. 
Explains the same source: «These visits were aimed at what to do questionnaire Hezbollah accurately. Each time, I feel that I have achieved a breakthrough in understanding how this movement works combatant, but I tell you frankly: no one in Iran knows how this works party. Yes, there are those who know dynamism on paper, but no one fully understands the mechanism of action and the Platform movement ». 
In this context, says Iranian official he encountered his presence in Lebanon on the Israeli withdrawal in May 2000, and fated to be in the operating room with Imad Mughniyeh . He adds: «It was something solemn. A historic moment.Everything was available. Navigate screens Israeli television coverage of the flight. Image that the officer is not absent from Bali when prostrated screaming: We have left Lebanon. Contact with all the Mujahideen deployed on the ground.Discussion that day me and him on the day following the withdrawal, he said to me: We will not allow Israel to attack Lebanon ». 
«I met him before his death a few days», says Iranian official last high-level, «we dined and discussed affairs of the region, and the situation will be after the 2006 war, the Israeli internal situation. Talked about the great victory, and saw that Israel has become so different in her eyes. Was crucial to the rules of the game have changed, and with it Israel, which was built as a threat to the entire region, especially after the 1967 war, when it was announced Israeli war minister at the time that all the Arab capitals under concede. 33-day war proved that conventional weapons unable to protect Israel, and it is not a threat to us, and that we have superiority in conventional weapons, and this is what reduces the value of Israel's role in the strategy of the West. Israel no longer able to perform its duties, and that is what we must exploit. This talk was Imad that night. Was very optimistic. Said: we won the whole affair. This way you can exterminate Israel. His theory was that Israel «will fall on its own as long as they become unable to perform the role that was expected of them by the United States and Western. 
describes Iranian official Imad relationship with Mr. Hassan Nasrallah, saying: «one soul in two bodies. They were friends, comrades, brothers, I do not know how Mr. Hasan can live without Hajj Imad. This question has always toured in my mind. No one knows Haj, as defined by Mr. 
Simple accident took place about two weeks ago may be truer expression of what it means Hajj Imad regard to Iran.During the Conference of the Islamic awakening for young people held in Tehran, Supreme Leader Ali Khamenei hosted at the end of the conference representatives of youth. Participated in the meeting, senior officials of the state, including the commander of the Qods Force Brigadier General Qassem Soleimani, supergroup. Was entering solemn, shook the entire hall, where a stop blatant senior Iranian officials: «Imad Mughniyeh Iran. 
Phrase summarizes the whole story, the story of Haj legend-turned-model.
Fonte: Qawem