Hundreds of thousands of algerians demanding an end to the 20-year presidency of Abdelaziz Bouteflika flooded the streets of Algerian cities on Friday in the greatest challenge to the North African nation's leadership in three decades.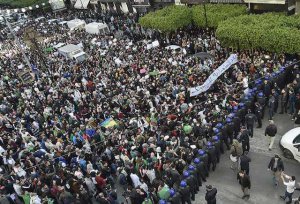 The protests, following midday prayers and concluding largely peacefully several hours later, marked the largest and perhaps broadest anti-government action in the country since a wave of demonstrations and unrest in the late 1980s triggered a brief democratic opening before the country descended into a decade-long civil war. "We have woken up, so get ready," they chanted. "We want the riches of the country divided equally."
They came amid signs of fissures within the ruling elite with symbolic acts of protest by lawmakers, politicians and community leaders in support of the anti-government wave, which began last month. "For days, Algeria has been witnessing an unprecedented peaceful revolutionary situation led only by the people," wrote Mokrane Ait Larbi, a campaign manager for one of the presidential candidates running against Bouteflika. Larbi resigned from his post and dismissed the process as a sham.
"It would not be possible at this historic crossroads to achieve a breakthrough via elections." Protesters on Friday turned out under grey skies and blustery weather, despite a message attributed to Bouteflika, issued through his minister of communications, warning of potential violence.  "The democratic pluralism, for which we tirelessly campaigned, is now a tangible reality," said his statement, which was issued on Thursday.
"However, we have the duty to urge vigilance and caution against any possible infiltration of misleading parties, either internal or external, in this peaceful expression. Such parties may cause [sedition] and provoke chaos, with all they can trigger – crises and woes."
The bulk of those protesting on Friday appeared to be young Algerians raised in the post-conflict era. They took to the streets to oppose a fifth term for the ailing, 82-year-old Bouteflika in upcoming 18 April elections, viewed by many Algerians and independent analysts as a pro forma extension of his rule.
Video footage posted online showed demonstrations all around the country of 42 million, the largest nation by land mass in Africa, and a key player in Arab, Mediterranean, and African affairs. The electronic news outlet Tout Sur Algerie, with a million followers on Twitter, reported protests in the capital Algiers, in Boumerdes, a satellite city of the capital, Bouira, southwest of the capital, Constantine and Souk Ahras, in the country's northeast, Mascara in the northwest, the Sahara oasis city of Ghardaia as well as the number two city of Oran.
By Staff, Agencies