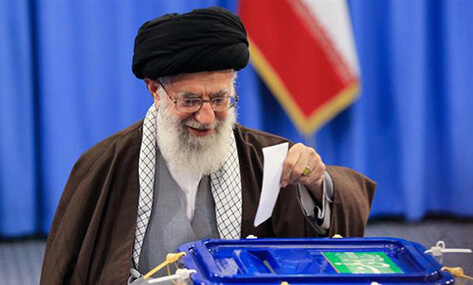 Local Editor
Leader of the Islamic Revolution His Eminence Imam Sayyed Ali Khamenei hailed the Iranian nation on Sunday over its massive turnout in the February 26 elections and demonstrating to the world the achievements of religious democracy.
In a message issued on the occasion of Parliament [Majlis] and Assembly of Experts elections, he said, "The next Majlis will shoulder heavy duties and it is hoped that the public will witness in it the standard of being responsible before God and people."
"The Islamic Iran is proud of its people" because of the strength of rules that have provided such opportunities for upholding the nation's dignity, the Leader added.
Imam Khamenei advised the elected candidates as well as the holders of positions in executive and judiciary branches to render their duties to the people through living a simple and honest life, preferring national interests, and standing against aliens' interference.
"The current ultra-sensitive era requires the sensitivity, prudence, and firm determination of all people especially the officials," read the message.
"Development is the country's principle objective. Nominal development without independence or national dignity is not accepted," he stressed, adding that development does not mean being digested in the global arrogance system.
Imam Khamenei also expressed his appreciation to those working for elections including its executives, supervisors, security agents, and the national media. Meanwhile, Iran's Islamic Revolution Guards Corps [IRGC] also commended the Iranian nation for its participation in the country's recent twin elections.
The IRGC's Public Relations Office released a statement on Sunday, describing the participation as "large-scale, passionate, and devastating for [the country's] enemies." "This stalwart nation… should be praised for its diligence and will in letting down the frontline comprising the sworn enemies of Islam and the Islamic Revolution, who are being led by the United States."
Results so far show that, while candidates from the Principlist camp have gained a majority when the entire country is taken into account, rival reformists have scored better results in Tehran, which is allotted the highest number of seats in both the Parliament and the Assembly of Experts, taking almost all seats for the capital. Over all, reformists have also been able to send more candidates into the parliament and the Assembly of Experts compared to previous elections for the two institutions.
"There is no doubt that those chosen by the nation will subjugate the global hegemony and arrogance to their perceptiveness and alertness," the IRGC statement read.
Source: Al-Ahed news