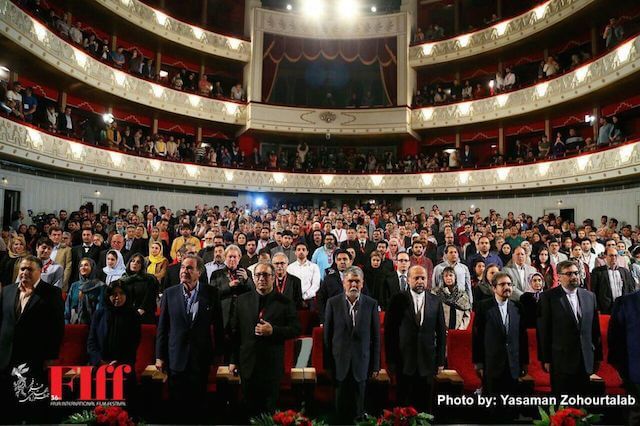 Closing ceremony of the 36th edition of Fajr international film festival was held in presence of Iran minister of culture and Islamic Guidance Abbas Salehi, head of cinema organization Mohammad Mehdi Heidarian, festival director Reza Mir Karimi, and prominent Iranian and international cinema individuals including Oliver Stone, Reza Kianian, Oliver Montagon, and many well-known personalities.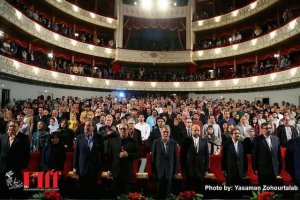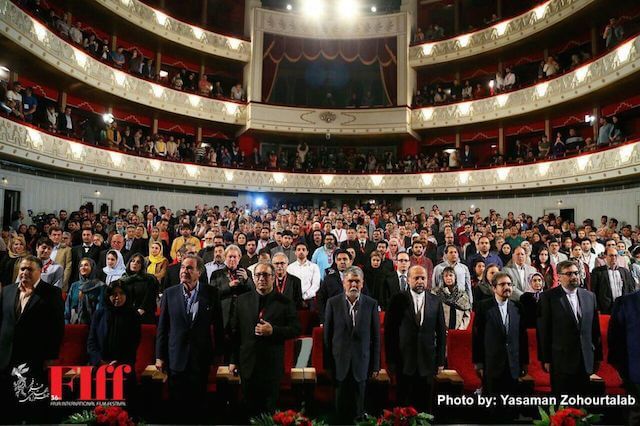 Reza Mirkarimi director of the festival delivered a short speech and said nothing could be done except by cooperation. He thanked all the international and Iranian guests as well as those who cared about the festival and made their best efforts to make it better than the previous editions.
He also appreciated the presence of American influential director Oliver Stone at 36th Fajr international film festival. This year, the Peace Award went to Rithy Panh. After the announcement by presenter Rambod Javan, Oliver Stone was asked to come on the stage to present the award.
Stone said: I should present an award right now and you all know who the winner is. My friend worked for a long period of time and in difficult conditions to make his motion picture. I'm honoured to present Rithy Panh with the Peace Award.
To present the Mohammad Al Ameen Award, Culture Minister Salehi also went to the stage. After presenting Iranian director Majid Majidi with the prestigious award, the minister said: Iran is recognized in the world by its culture, poetry and art. Ture, there are many who are trying to show a distorted image from Iran, but there are also many others like Iranian poets, artists and filmmakers who are making every effort to show the real image of Iran to the world; the way it was, is and must be.
Minister Salehi added: I'd like to thank you all for showing the real image of Iran to the world. I'd like to thank those who have been working behind the scenes to organize efficiently the Fajr International Film Festival for four years now. I'd also like to thank all our international guests who attended the 2018 series.
This year hundreds of International and far-famed guests along with well-known Iranian filmmakers, actors and actresses celebrated cultural exchanges, shared their experience and enjoyed watching movies from all over the world. Festival included many section such as Broken Olive Branches, "Darolfonoun", "Talent Campus", "Magic Lantern", "Salvation Cinema", Eastern Vista.
Festival guests were from the US, UK, Italy, Australia, Georgia, Palestine, Iraq, Russia, Japan, France, Korea, Spain, India, Turkey, Lebanon, Syria, and many other nationalities.
36th edition of the event wrapped up today as announcing the winners which comes as following:
List of Awards of 36th FIFF
Netpuk award went to "Hindi and Hormoz" directed by Abbas Amini
Silver Simorgh for the First film went to Dressage directed by Puya Badkoube
Interfaith prize
Silver Simorgh for Interfaith section went to Semih kaplangolu for the "Grain" from Turkey, German, France, Sweden and Qatar
Silver Simorgh for the Life-time achievement Peace award went to Rithy Panh for a lifetime effort and hard work (Oliver Stone gave the award)
Honory award went to "The Miner" directed by Hanna Slak (she dedicated her award to her wish: I hope many short-films, documentaries and feature films could be made by Iranian women in coming years.)
Eastern Vista program: Panorama of Films from Asian and Islamic Countries
Silver Simorgh for best Asian short film went to Mohammad Kart for Pedovore
Silver Simorgh for best Asian director went to Maryam Bahrololumi for his Patio
Silver Simorgh for best Asian feature film went to Father and Son directed by Dung Dinh Luong from Vietnam
Mohammad Amin award (morality award) went to Majid Majidi for his film 'Beyond the Clouds"
International Competition (Cinema Salvation)
Special mention for short film went to the Iranian film Aghay-e Gavazn by Mojtaba Mousavi
Silver Simorgh for Best short film went to Faith directed by Tatiana Fedorovsaya from Russia
Jury special award for the best artistic achievement went to Song of Granite Cinematographer: Richard Kendrick.
Silver Simorgh for Best Actress went to Mahoor Alavnd for Hattrick
Silver Simorgh for Best actor went to leon Lucev for The Miner from Croatia
Silver Simorgh for Best script went to Ramtin Lavafi for the film Hattrick
Silver Simorgh for Best director went to Alexey Germanfor the film Dovlatov from Russia, Poland and Serbia
Silver Simorgh for Best film went to AGA directed by Milko Lazarov Bulgaria , German and France.