Rassegna Esteri
32 killed in deadly explosion at Shiite mosque in Yemen capital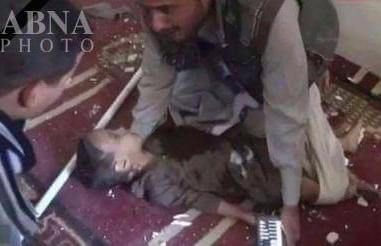 Ahlul Bayt News Agency – A suicide bomb attack and a subsequent car bomb at a Zaidi (Shiite sect) mosque in Yemen's capital, Sana'a, have killed at least 32 people and injured 98, in an operation claimed by the so-called Islamic State of Iraq and the Levant's (ISIL) Yemeni affiliate
The suicide attacker blew himself up inside the Al-Mouawed mosque (مسجد المؤيد) during the evening call to prayers on Wednesday, while the car bomb was detonated outside the entrance as rescuers came to help the wounded, witnesses said.
Medical officials said the death toll may rise with people now in operating rooms in several hospitals.
The explosions left body parts and bloodied floors in the mosque frequented by both Sunni and Shia Muslims, according to he AP news agency.
A statement shared on Twitter by supporters of the group, said ISIL member Qusai al-Sanaaeni infiltrated the "apostate Houthi Shiite Muslims with his suicide vest in al-Mouawed mosque in al-Jaraf district in North Sanaa and then the blast was followed by a car bomb parked outside the mosque when the ambulances arrived to the scene".
The terrorist group has carried out similar bombings in Sanaa this year.
Saudi Arabia launched its military aggression against Yemen on March 26 – without a UN mandate – in a bid to undermine Yemen's Houthi Ansarullah movement and restore power to the country's fugitive former President Abd Rabbuh Mansour Hadi, a staunch ally of Riyadh.
Nearly 4,500 people have been killed in the Yemeni conflict, the World Health Organization said on August 11. Local Yemeni sources, however, say the fatality figure is much higher.